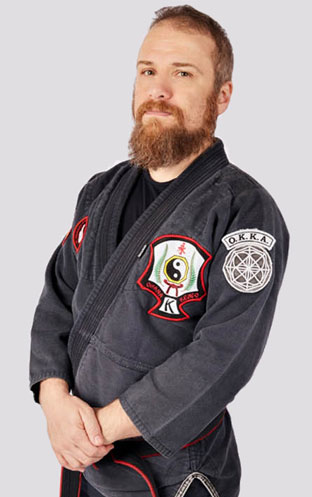 Saudações!
Conheça seu Instrutor
Sensei Helio Greca é reconhecido internacionalmente por suas realizações e dedicação ao avanço e crescimento do Kenpo no Brasil.
Patriarca do sistema em território nacional, é instrutor certificado pela Ohana Kenpo Karate Association e se dedica ao ensino da arte há mais de 20 anos. Ele é o fundador e presidente da Federação Brasileira de Kenpo e idealizador do Virtual Dojo – a primeira ferramenta para estudo online de Kenpo no Brasil!
O Dojo Virtual tem como objetivo facilitar o acesso da arte e consolidar o Kenpo em território nacional. Venha fazer parte desta família!
Saiba mais…
LEARNING OBJECTIVES
So many academic goals that we expect you to achieve.
What People Say
How real people said about Education WordPress Theme.

Peter Packer
Front-end Developer
" LearnPress WordPress LMS Plugin designed with flexible & scalable eLearning system in mind. This WordPress eLearning Plugin comes up with 10+ addons (and counting) to extend the ability of this WordPress Learning Management System. This is incredible. "

Manuel
Designer
" LearnPress is a comprehensive LMS solution for WordPress. This WordPress LMS Plugin can be used to easily create & sell courses online. Each course curriculum can be made with lessons & quizzes which can be managed with easy-to-use user interface, it never gets easier with LearnPress. "
John Doe
Art director
" LearnPress is a WordPress complete solution for creating a Learning Management System (LMS). It can help me to create courses, lessons and quizzes and manage them as easy as I want. I've learned a lot, and I highly recommend it. Thank you. "

Elsie
Copyrighter
" You don't need a whole ecommerce system to sell your online courses. Paypal, Stripe payment methods integration can help you sell your courses out of the box. In the case you wanna use WooCommerce, this awesome WordPress LMS Plugin will serve you well too. "

Anthony
CEO at Thimpress
" Education WP Theme is a comprehensive LMS solution for WordPress Theme. This beautiful theme based on LearnPress – the best WordPress LMS plugin. Education WP theme will bring you the best LMS experience ever with super friendly UX and complete eLearning features. "

Susan Jackson
WordPress Developer
" Education WP is a special build for an effective education & Learning Management System site. Education WP is the next generation & one of the best education WordPress themes which contains all the strength of eLearning WP and comes with better UI/UX. "
Subscribe now and receive weekly newsletter with educational materials, new courses, interesting posts, popular books and much more!
Trusted by over 6000+ students
Join our community of students around the world helping you succeed.